Although estimates vary as to how many people in the UK suffer from Fibromyalgia, it could be as high as 2.9 million, putting it among the most common chronic pain conditions.
Data from Google Trends, illustrated in the graph below, shows that searches for the condition have risen significantly over the past 20 years.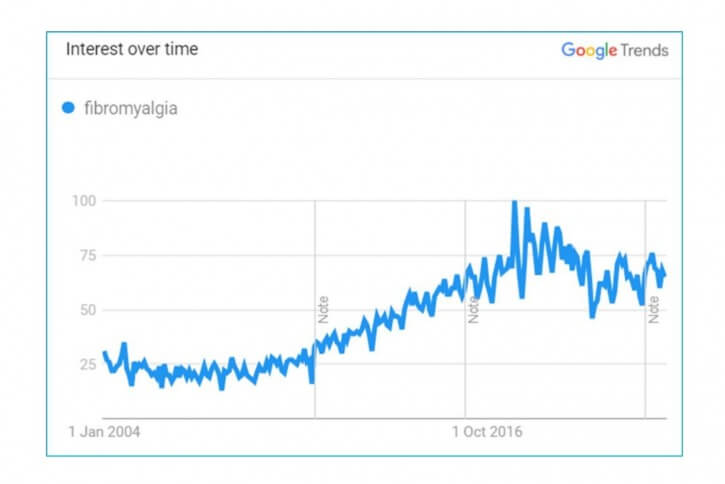 What is Fibromyalgia?
Fibromyalgia is a chronic (long-lasting) condition characterised by widespread pain and tenderness and a host of other symptoms including fatigue and sleep problems. Its cause is not fully understood but people with the condition have a heightened sensitivity to pain (NIAMS, 2022). The condition disproportionately affects women with most studies putting the percentage of women affected at more than 75% and some as high as 90%. The symptoms also tend to present differently between men and women.
Currently, there's no cure for Fibromyalgia, and neither is there a single approach to managing symptoms. Instead, it's a matter of trial and error, with patients working with a specialist doctor and other health professionals to find a combination of treatments and therapies which provide the optimum relief of their symptoms.
As with most aspects of Fibromyalgia, its cause is not well understood, although it's accepted that the condition can be triggered by a stressful or traumatic event, by a viral infection or surgery. Psychological factors such as stress at work, relationship breakdown and bereavement can also play a role.
What is the public awareness of Fibromyalgia in the UK?
Despite the increasing number of searches for the condition over time, from our survey of 1,000 people across the UK, almost 40% of them were not aware of the condition, with a further 23% not sure whether they knew what it was.
Question: Do you know what fibromyalgia is?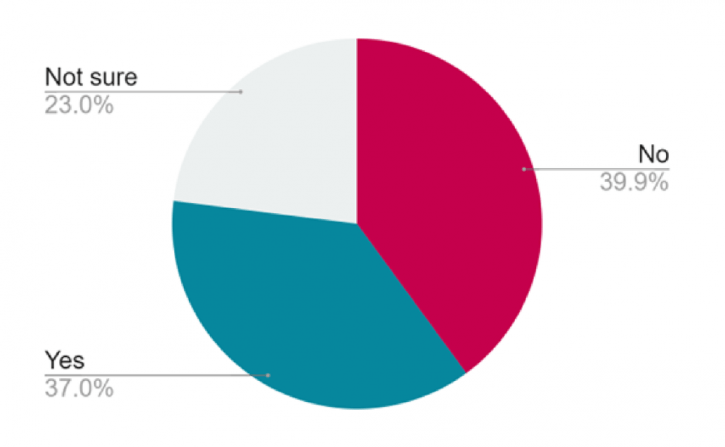 It's interesting to compare this data to the results of our last survey, which focused on UK awareness of another chronic pain condition, Complex Regional Pain Syndrome (CRPS).
Whilst almost 63% of respondents said they were not aware of what Fibromylagia was or were not sure, 37% of them said they were aware of the condition. This compares to less than 9% of positive responses in the case of CRPS.
Commenting on the results, BLB Solicitors' Head of Personal Injury, Andrew Atkinson, said:
"Although we do not have past awareness data to compare with these results, our own experience in recent years is that awareness of Fibromyalgia has continued to improve slowly, in part thanks to lobby groups and charities such as Fibromyalgia Awareness UK and Fibromyalgia Action UK. That said, the survey suggests we still have a long way to go, with only around 1 in 3 people in the UK aware of Fibromyalgia. That seems incredible for a condition that by some estimates affects almost 1 in 20 of the population."
We plan to repeat this research annually to monitor changes in Fibromyalgia awareness.