Many medical conditions are either misunderstood or largely lack public awareness. Unfortunately, this is true of some life-changing conditions that many people struggle with daily.
For many years we have been helping clients suffering from a number of chronic pain conditions and, in particular, have seen a steady increase in those looking to make CRPS compensation claims.
What is CRPS?
Complex Regional Pain Syndrome (CRPS) (often misquoted as Chronic Regional Pain Syndrome) is a chronic pain condition that develops following trauma. It is thought to be caused by an injury to the sympathetic nerves, and symptoms typically include:
intense, burning, debilitating and persistent pain;
greatly heightened skin sensitivity;
a change in skin colour;
skin temperature changes;
abnormal hair and nail growth.
While it can affect all areas of the body and spread from the original site, it most often affects the extremities – arms, hands, legs and feet.
To try to gain a better understanding of how many people in the UK may be living with the condition, we took a look at some propriety Google Trends data, discovering that CRPS as a search term was searched for 193% more in March 2021 compared to March 2016. The trend line below indicates that increasingly more people are searching for CRPS, and it seems reasonable to conclude that many of these may be sufferers of the condition or those close to people living with it.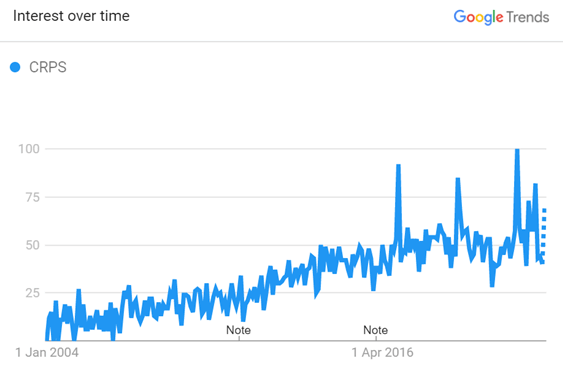 Surprised by this data, we conducted a survey of 1,000 people to determine their awareness of CRPS.
Over 62% of the UK public has not heard of CRPS
In our survey of a diverse sample of 1,000 people across the UK, over 62% had not heard of CRPS, with almost 29% not sure whether they had heard of it. Less than 9% of respondents replied that they had heard of the condition.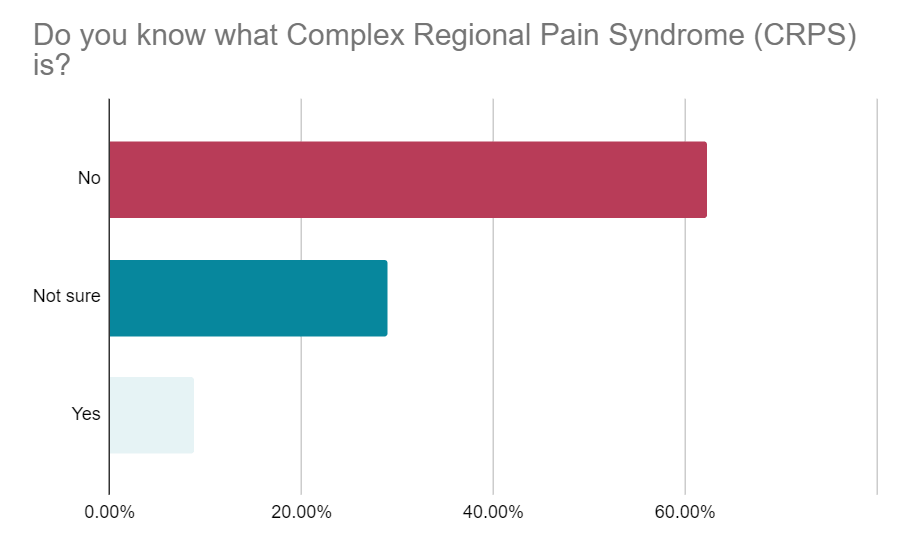 Although we do not have past awareness data to compare with these results, our survey demonstrates a general lack of awareness of CRPS among the UK population, which has always been our experience. Much of the awareness that does now exist is thanks to the continuing work of charities such as Burning Nights CRPS Support.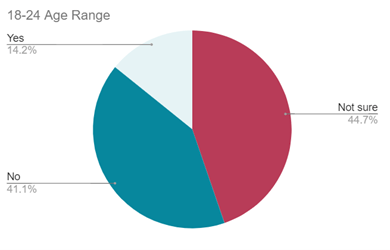 Delving further into the data suggests greater awareness of the condition within the younger population. Over 14% of respondents within the 18-24 age range had heard of the condition with only 7.25% in the over 65 age range. Interestingly, there was a fairly even split between the 'no' and 'not sure' answers in the younger age with 44.74% answering not sure and 41.1% answering no.
The 'suicide disease'
Commenting on the results, BLB Solicitors' head of Personal Injury, Andrew Atkinson, said:
"Our team at BLB has specialised in claims involving chronic pain for more than fifteen years, with the majority of our clients suffering CRPS. Over that time, our experience has been that general awareness of the condition has not improved significantly, although awareness specifically among the medical profession is now much better than it was just a few years ago.
"People suffering CRPS often describe the level of pain they suffer as being 'off the scale', which is why the condition is sometimes referred to as the 'suicide disease'. With that in mind, it's understandable that sufferers find the general lack of awareness of CRPS beyond frustrating.
"Although the results of our survey come as no great surprise, we intend to repeat this exercise in the future and it will be good to have this data for comparison."